Miankaleh Peninsula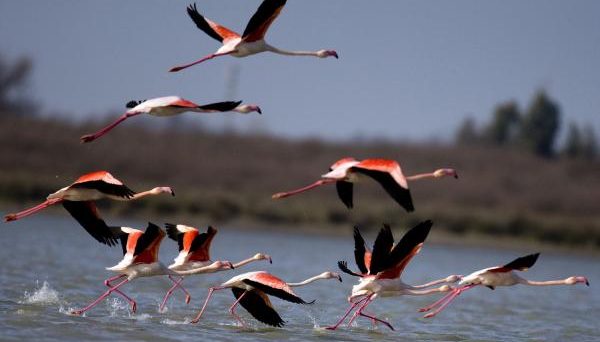 Miankaleh Peninsula in the north of Iran is situated in the extreme southeastern part of the Caspian Sea. The long and narrow peninsula is 48 km long, and between 1300 and 3200 meters wide. The area is about 68,800 Ha in approximate altitude of -25 meters from sea level (Persian Gulf base).
The climatic and geographic situation of this region provides appropriate conditions for wildlife over 260 species of waterfowl were identified in Miankaleh in the year 1998.
It is home to many unique Caspian bird and reptile species, endemic to this region. It is also a very important internationally-recognized refuge for migratory birds.
The international and national natural Biosphere Reserve, due to its great value as a wintering station for over a quarter of a million birds, including pelican, flamingo, grey leg goose, lesser white fronted goose, swans, red-breasted merganser and the rare white headed duck.
The Peninsula Miankaleh is considered a wildlife refuge center and was therefore listed as the only natural biosphere reserve in the northern coast of Iran in 1969, later in 1976 designated by United Nations as a protected Area.
Flora and fauna include:
Raspberry, common medlar, Mediterranean hackberry, Jerusalem Thorn, Populus, Salsola, Cyperaceae, and Polygonum;
Wolf, Jackal, fox, Hedgehog, Wild boar, Caspian seal, Flamingo, Black Francolin, Falcon, Peregrine Falcon, and Little Bustard;
Common carp, Caspian White Fish, Zander, Crucian carp, Mullet;
Endangered birds: Coot, Purple Swamphen, Smew, Flamingo, White-headed Duck, Red-breasted Goose, and Whooper Swan.
Registered as:
• National Parks
• Protected Areas
• Wildlife Refuges