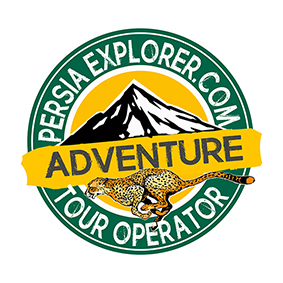 The purpose of choosing and designing this logo is to demonstrate the symbols of Iran which are related to the nature and wildlife of Iran due to our activities. We use two main objects in the logo that clearly show our purpose.
"Mount Damavand and Persian Cheetah"
The first one: is "Mount Damavand".
Damavand is the highest peak in Iran and the Middle East, and the highest volcano in Asia. In addition, Damavand is a significant mountain in Persian mythology. It is the symbol of Iranian resistance against despotism and foreign rule in Persian poetry and literature.
In Zoroastrian texts and mythology, the three-headed dragon Aži Dahāka was chained within Mount Damāvand, there to remain until the end of the world. In a later version of the same legend, the tyrant Zahhāk was also chained in a cave somewhere in Mount Damāvand after being defeated by Kāveh and Fereydūn. Persian poet Ferdowsi depicts this event in his masterpiece, the Shahnameh. The mountain is said to hold magical powers in the Shahnameh. Damāvand has also been named in the Iranian legend of Arash (as recounted by Bal'ami) as the location from which the hero shot his magical arrow to mark the border of Iran, during the border dispute between Iran and Turan.
The second one is: "Persian Cheetah".
The Asiatic cheetah is now known as the Iranian cheetah, as the world's last few are known to survive mostly in Iran. The Asiatic cheetah is a critically endangered subspecies of the cheetah found today only in Iran, with some occasional sightings in Balochistan, Pakistan.
It lives mainly in Iran's vast central desert in fragmented habitats. Although once common, the animal was driven to extinction in other parts of southwest Asia from Arabia to India and Afghanistan.
So since we are against hunting and advocating wildlife we found that Persian Cheetah is the best choice for our logo to indicate our support of Iran's wildlife besides Mount Damavand.