Mount Damavand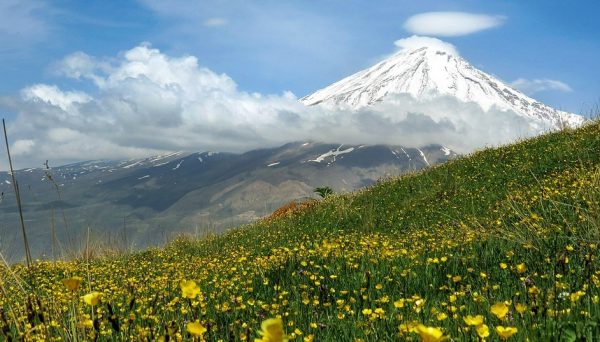 Alborz Mountain range with more than 2000 Km. length lies from North-West to North-East of Iran.
This vast mountain range comprises main peaks of 4000m height. The only peak higher than 5000m is Damavand with 5610m altitude at the farthest end of the central eastern part of Alborz. Damavand peak is situated in Larijan district, southwest of Amol and 69 Kilometers northeast of Tehran. Moreover, there are a lake named Lar, suitable for fishing and so many mineral water springs.
Damavand is the highest mountain in Iran and Middle East and also the highest volcano in Asia. Mount Damavand is the result of volcanic activities at the beginning of the quarter centenary geologic time (Pleistocene stage). Damavand region is one of the most beautiful natural surroundings with fields full of wild poppy and purple lily in spring and long grass in green summer. It is also a rain area having very hard winters, but moderate summers. The summit and slopes are always covered by snow. Due to its conical shape, climbing is possible from all sides. Damavand has 60 major and minor and mixed climbing routes in its different geographical aspects , but well-known paths are nine. The most frequented are North, North-East, South and West faces. The easiest route is the southern path. On all faces, shelters are provided.
In the history of Iran, Damavand has always been a symbol.
Registered as:
• National Natural Attraction
• National Parks
• Protected Areas
• Wildlife Refuges